Department of
Medical Surgical Nursing including Nursing Foundation
Welcome to the Department of Medical Surgical Nursing
This department deals with disease problems (both emerging and reemerging diseases), treatment, surgical management, specific dietary management and nursing management of patient with different disease conditions and surgical procedures by providing total care of patient with holistic approach. It deals with preparation of patient for various investigative procedures and surgery.
Vision
Future Nurses, who will be in "savoir faire" for providing high quality compassionate focused care on individuals, families and communities. We also encourage the highest level of client centered care through innovative evidence based practice in medical and surgical nursing.
Mission
Excellent clinical practice thereby making the students supreme professional nurses.
Produce competent professional medical surgical nurses who uphold values of truth, integrity, peace, democracy and human rights.
Promote and participate academic programmes that increase personality development, social involvement and national and international health care standards.
Generate significant research programs which contribute to an evidence base, scientific and technologically advanced nursing education
OBJECTIVES
Acquire knowledge of principles of nursing involved in the delivery of comprehensive client care.
Participate as health team members in the preventive, promotive, curative and rehabilitative health care delivery.
Employ the nursing process to provide holistic, client centered care.
Use client care technologies, information systems and communication devices to deliver safe nursing care.
Employ evidence based practices to facilitate communication and collaboration to deliver safe client care.
Scholastic Education
The students are getting best academic education from the enthusiastic and energetic faculty. The faculty are refreshing and updating their knowledge by attending seminars and continuing nursing educations at regional, state, national and international level from many institutions and hospitals. The students are getting opportunity to practice procedures in the demonstration laboratory before handling the patients.
Innovative teaching and learning methods like power point presentation, symposium, simulation, mnemonics, and demonstration along with lecture cum discussion is carried out efficiently by our faculty. The opportunity like clinical presentation, clinical teaching, writing case study and care plans, attending nursing rounds, conferences and bedside clinics improves student's skills in communication, leadership, recording and reporting.
Super Specialty Training
In order to combat with the advances of nursing education and practice, the students receive high quality training at VIMS Hospital, Salem under various departments like Cardiology, Surgery, Neurology, and Critical care.
Academic Excellence
The department is conducting CNE programs biannually, guest lecture classes once in three months and journal club presentation once in two months. The national conference is organized by medical surgical nursing department periodically.
Annual Programs
The department celebrates world heart day, world diabetic day, world cancer day and conducts drug exhibition periodically.
Department of
Child Health (Paediatric) Nursing
Welcome to the Department of Child Health (Paediatric) Nursing
The department of Child Health Nursing was established to provide a Multimodal approach for budding the graduates in pediatrics.
Academic Education
The UG & PG scholars have wide open opportunities to be trained in Pediatric nursing through well-organized discussions, seminars, clinical teaching, journal club presentation, CNE, Guest lecture and clinical demonstration to nurturing their skills to be a self- directed learner with the use of appropriate learning resources in classroom as well as in clinical setting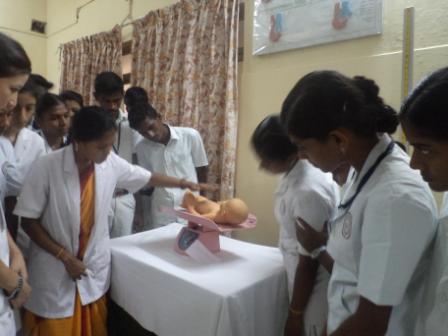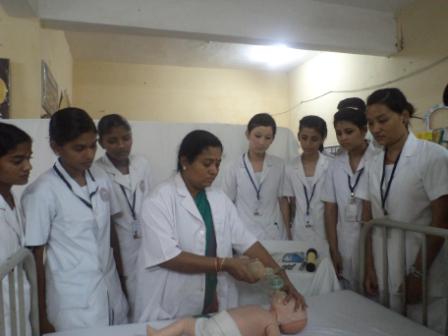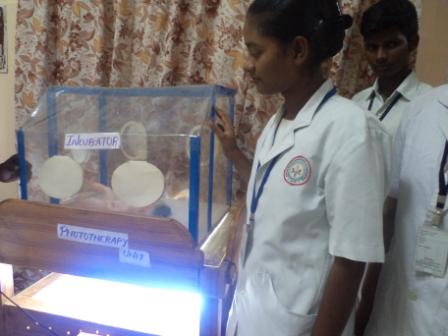 Journal Club Presentation
Journal club is a group of individuals who meet regularly to critically evaluate recent articles. To accomplish with enormous credit, our department organizes journal club presentation on various topics every year.
Super Specialty Training
In order to combat with the advances of medical education the students receive quality training at our parent hospitals, Vinayaka Mission's Hospital and Vinayaka Mission's Kirupanandavariyar Medical College Hospital.
Outreach programs
The Outreach activities of Pediatric nursing department include child labour awareness programme, breastfeeding week -Exhibition, immunization week, neonatal week and inter-collegiate quiz competition.
Department of
Obstetrics and Gynaecological Nursing (OBG)
Welcome to the Department of Obstetrics and Gynaecological Nursing (OBG)
The department of Obstetrics and Gynecology nursing permits students to appreciate the complete birthing experience and provides capabilities in advanced life support, obstetrics and neonatal resuscitation protocols and high risk maternal care. Experienced Nursing faculty members with doctoral qualification is an added strength to our department.
Vision
The vision is to provide the best exclusive education, practice and research related to Obstetrics and Gynaecology Nursing. We aim to deliver a first class, high quality services, providing safe and effective care by skilled professionals, delivered in a cost effective manner.
Mission
The mission of the Obstetrics and Gynecology Nursing department is to enrich the life of women and children by offering most effective nursing education to professionals towards optimizing health of women and children in an ever changing health care environment.
The faculty values integrity, honesty, openness, personal excellence, constructive self-criticism, continual self-improvement, mutual respect and have a passion to serve with high performance through corporate & clinical governance to achieve best outcomes for everyone.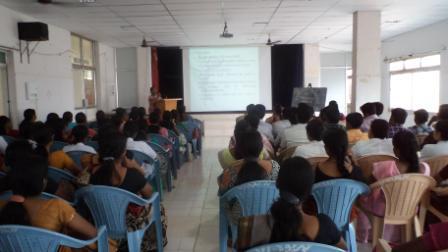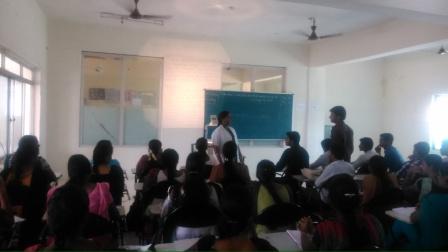 OBG Laboratory
We have a well furnished laboratory with latest high tech manikins and various models used for learning purpose. The students are getting opportunity to practice procedures in the demonstration lab before handling the mothers.
Scholastic education
The students are getting best academic education from the enthusiastic and energetic faculty. The faculty are refreshing and updating their knowledge by attending seminars, CNEs in different colleges throughout India.
The departmental library has books for specialty, procedure manuals, instrument books, research and basic nursing procedures. We also have adequate audiovisual aids for teaching and learning such as LCD, OHP, models and blackboards.
Clinical focus
Clinical facilities are a backbone to link theory into practice. Clinical area with scrupulous variety of clinical condition promotes ideal learning for undergraduates and post graduates. Class rooms attached to clinical area promotes conducive learning atmosphere. Case presentation, clinical demonstration, care studies, bed side rounds, clinical conference, health education is practiced by our students with the help of faculty.
Specialty training
The students are open to the essentials of the specialty at the Department of OBG in Vinayaka Mission's Medical College Hospital, Vinayaka Mission's Hospital, Corporation maternity centre, Salem and Primary Health Centers at Salem.
Departmental Activities
Participates actively in National Immunization, Pulse Polio Program and other National Health Programs
The department provides a wide opportunity for the faculty to participate in state, national and International level conferences and seminars.
Conducts continuing nursing education every six months, journal club presentation every month and guest lecture classes annually twice.
Department of
Community Health Nursing
Welcome to the Department of Community Health Nursing
Community health nursing is the branch of nursing concerned with the health of populations. It strives to protect and promote the health and well-being of the community through the Primary Health Care approach.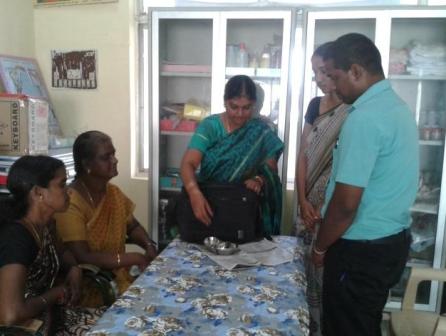 VISION
The department caters to the learning needs of the students of B.SCc (N) II year, IV year and M.Sc (N) I year and II year students specialising in Community Health Nursing and offers diverse learning experience that facilitate the development of competent Community Health Nurse and value citizens who demonstrate excellence in community service, family, individual care , education and research.
MISSION
Demonstrate excellence in clinical care by our commitment to evidence based practice.
Create innovation in clinical practice programs and technology through active participation in shared decision making and research.
Provide compassionate and respectful environment for all members of our community through family centered care.
The main goals of the department are
To prepare the students to practice for the individual, family, and group at both urban and rural settings by using concept and principles of health and community health nursing.
To direct the students towards achievement of "Better Health for All
Academic
The faculties create a positive and caring environment for student's development and learning. A variety of teaching methods and materials were used for teaching 7 learning. The faculty also plan informative sessions that involve individual development and team work also the teaching and learning of the students are based on the felt need of the community for health promotion & disease prevention at primary, secondary and tertiary level.
School Health Services
School Health Services are conducted periodically to identify the health problems of school children.
Educational visits
As part of the curriculum requirement, students visit water purification plant, milk dairy unit, old age Home, orphanage home, TB Centre, slaughter House, cancer Centre, Block Development Office, ICDS Centre and Bio Medical Waste Management.
Journal Club Presentation and Guest Lecture
Journal club presentations are conducted every month by the faculties of community health department and Guest lecture classes are also arranged.
Awareness programs
In lieu of health related important days, our department conducts programs such as Exhibition Health awareness campaign, awareness rally & nutrition education, Exhibition on breast feeding week and Pulse polio programme.
Department of
Mental Health (Psychiatric) Nursing
Welcome to the Mental Health (Psychiatric) Nursing
Psychiatric nursing is a specialized nursing response to people experiencing problems between cognitive, behavioral or emotional functioning. This department provides multimodal approach in the field of Psychiatric nursing.
VISION
Our vision is to become a premier provider in mental health nursing education of international repute and emerge as a department that is recognized for promoting excellent in Education, Service, Research and Leadership with commitment to the core values of our discipline.
MISSION
Provide competent and proficient nursing education to the students.
Update with recent advances and keep up global standards of mental health nursing practice.
Provide excellence in mental health nursing research, which includes high quality publications and competitive external grants.
Foster the contribution of nurses to the improvement of mental health in the Indian society.
Objectives
Motivate the students to practice their knowledge to become an efficient professional mental health nurse.
Develop skills and attitudes to carryout comprehensive nursing care for mentally ill persons and psychological aspects of client with physical disorders.
Carryout research activities in the areas of mental health/illness in clinical and community settings.
Provide holistic care to Clients with various psychiatric disorders by using recent techniques.
To appreciate evidence based nursing practice and narrow down the gaps between theory, practice and research.
Scholastic Education
The department under the experienced and dedicated faculty render quality based education to the undergraduate and post graduate students to assist them in developing expertise and in depth understanding in the field of Psychiatric Nursing.
Specialty Training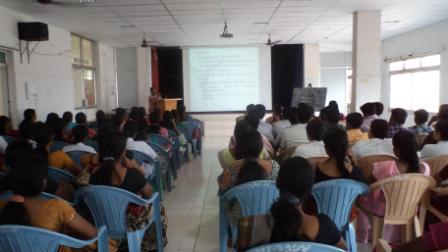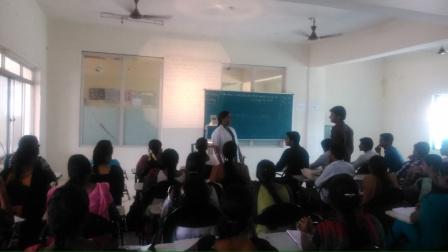 The students are open to the essentials of the specialty at the Department of Psychiatric in Vinayaka Mission's Kirupananda Variyar Medical College and Hospital, Salem and Manoraksha Mental Health Centre, Gajalnaickenpatty, Salem
Superspeciality Training
Students are given opportunity to excel their clinical experience in mental health nursing at National Institute of Mental Health and Neuro Sciences (NIMHANS) Bengaluru, Karnataka.
Manpower Development
The department is also committed to provide opportunities for professional growth, including a fully individualized orientation, support for participation in professional development activities and various in-service programmes for the faculty and students.
Journal club presentation
Journal Clubs are held every month in the college campus for faculty and students to critically evaluate recent articles in the academic literature, generally of some public importance.
Guest lecture
Guest lectures help the student to become more familiar with the advanced literature in their field of mental health nursing also improves the students skill of understanding and debating current topics of active interest in their field.
Outreach programs
Psychiatric Nursing care is also extended to the rural and urban community. Health education, Rally, Psychodrama, Mime, Quiz competition, Health and Memory screening camp, Group meetings and Counseling programs has been organized periodically to improve the awareness about mental health to the society and doing referral services and necessary help for the people with disturbed mental status.