Research Cell
VISION
Our vision is to build a vibrant research culture at Vinayaka Mission's Annapoorana College of Nursing by creating and supporting a research intensive environment for all the faculty and students.
MISSION
Maximize success in research endeavours.
Expand the research capacity research portfolio for faculty and students.
Facilitate and enhance partnerships and collaborations between faculty, government foundation and community services.
To address important National and global needs.
OBJECTIVES
Fostering competitiveness for student nurses in discovery, research and innovative activities.
Enhancing research excellence in providing service and resources to faculty, students and staff nurses.
Identify areas where research evidence could make the most different.
Assist in building national and International knowledge about quality and safety in health care
QUALITY POLICY
Promote quality education, to convert a novice into a competent expert in the relevant field at par with global standards
Prepare them to meet the challenges of life with full of confidence
Utilise research finding to improve the health of the people
Participate in research activities for the development of health care and nursing profession
THRUST AREAS
Reproductive and child health
Health and nutrition
Environmental and population health
List of Approved Research Supervisors
Research Projects
Department of
Community Health Nursing
Welcome to the Department of Community Health Nursing
Community health nursing is the branch of nursing concerned with the health of populations. It strives to protect and promote the health and well-being of the community through the Primary Health Care approach.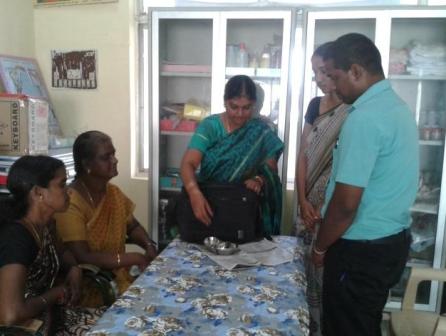 VISION
The department caters to the learning needs of the students of B.SCc (N) II year, IV year and M.Sc (N) I year and II year students specialising in Community Health Nursing and offers diverse learning experience that facilitate the development of competent Community Health Nurse and value citizens who demonstrate excellence in community service, family, individual care , education and research.
MISSION
Demonstrate excellence in clinical care by our commitment to evidence based practice.
Create innovation in clinical practice programs and technology through active participation in shared decision making and research.
Provide compassionate and respectful environment for all members of our community through family centered care.
The main goals of the department are
To prepare the students to practice for the individual, family, and group at both urban and rural settings by using concept and principles of health and community health nursing.
To direct the students towards achievement of "Better Health for All
Academic
The faculties create a positive and caring environment for student's development and learning. A variety of teaching methods and materials were used for teaching 7 learning. The faculty also plan informative sessions that involve individual development and team work also the teaching and learning of the students are based on the felt need of the community for health promotion & disease prevention at primary, secondary and tertiary level.
School Health Services
School Health Services are conducted periodically to identify the health problems of school children.
Educational visits
As part of the curriculum requirement, students visit water purification plant, milk dairy unit, old age Home, orphanage home, TB Centre, slaughter House, cancer Centre, Block Development Office, ICDS Centre and Bio Medical Waste Management.
Journal Club Presentation and Guest Lecture
Journal club presentations are conducted every month by the faculties of community health department and Guest lecture classes are also arranged.
Awareness programs
In lieu of health related important days, our department conducts programs such as Exhibition Health awareness campaign, awareness rally & nutrition education, Exhibition on breast feeding week and Pulse polio programme.
Department of
Mental Health (Psychiatric) Nursing
Welcome to the Mental Health (Psychiatric) Nursing
Psychiatric nursing is a specialized nursing response to people experiencing problems between cognitive, behavioral or emotional functioning. This department provides multimodal approach in the field of Psychiatric nursing.
VISION
Our vision is to become a premier provider in mental health nursing education of international repute and emerge as a department that is recognized for promoting excellent in Education, Service, Research and Leadership with commitment to the core values of our discipline.
MISSION
Provide competent and proficient nursing education to the students.
Update with recent advances and keep up global standards of mental health nursing practice.
Provide excellence in mental health nursing research, which includes high quality publications and competitive external grants.
Foster the contribution of nurses to the improvement of mental health in the Indian society.
Objectives
Motivate the students to practice their knowledge to become an efficient professional mental health nurse.
Develop skills and attitudes to carryout comprehensive nursing care for mentally ill persons and psychological aspects of client with physical disorders.
Carryout research activities in the areas of mental health/illness in clinical and community settings.
Provide holistic care to Clients with various psychiatric disorders by using recent techniques.
To appreciate evidence based nursing practice and narrow down the gaps between theory, practice and research.
Scholastic Education
The department under the experienced and dedicated faculty render quality based education to the undergraduate and post graduate students to assist them in developing expertise and in depth understanding in the field of Psychiatric Nursing.
Specialty Training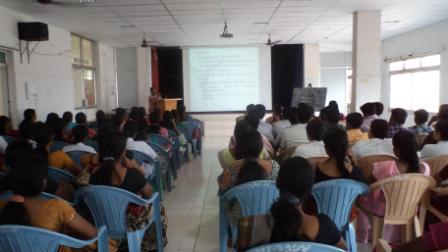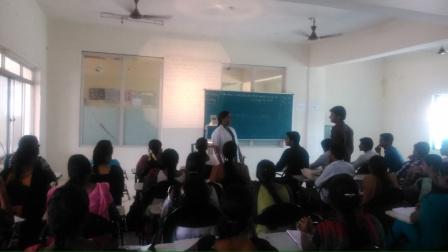 The students are open to the essentials of the specialty at the Department of Psychiatric in Vinayaka Mission's Kirupananda Variyar Medical College and Hospital, Salem and Manoraksha Mental Health Centre, Gajalnaickenpatty, Salem
Superspeciality Training
Students are given opportunity to excel their clinical experience in mental health nursing at National Institute of Mental Health and Neuro Sciences (NIMHANS) Bengaluru, Karnataka.
Manpower Development
The department is also committed to provide opportunities for professional growth, including a fully individualized orientation, support for participation in professional development activities and various in-service programmes for the faculty and students.
Journal club presentation
Journal Clubs are held every month in the college campus for faculty and students to critically evaluate recent articles in the academic literature, generally of some public importance.
Guest lecture
Guest lectures help the student to become more familiar with the advanced literature in their field of mental health nursing also improves the students skill of understanding and debating current topics of active interest in their field.
Outreach programs
Psychiatric Nursing care is also extended to the rural and urban community. Health education, Rally, Psychodrama, Mime, Quiz competition, Health and Memory screening camp, Group meetings and Counseling programs has been organized periodically to improve the awareness about mental health to the society and doing referral services and necessary help for the people with disturbed mental status.